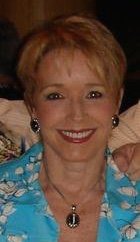 ARTIST STATEMENT


I create my ceramic sculptures out of raw clay. In order to achieve texture, depth, and focus I tear, imprint, pierce or smooth the clay then adhere the pieces to each other with clay slip. I use a variety of finishes: underglazes, glazes, paints, rubber, and metal finishes, to name a few.



Sometimes I have a clear idea of what I am going to create, other times my art seems to create itself. I draw my influences and passions from growing up in Hawaii where vivid colors were a natural part of my life. Each color kindles inside of me a special kind of joy and excitement for living. Orange reminds me of picking guavas with my best friend early in the morning, blue recalls the bliss of bodysurfing at Makapuu Beach, yellow is the hot Hawaiian sun warming me, and so on.

My first connection with creating art to express myself was in 4

th

grade. My teacher was displeased that I created a collage that included, but was not limited to, her guidelines. I realized for the first time that thinking for myself was not always rewarded.

However, I was not discouraged because soon after this experience I saw my first Vincent Van Gogh painting, which my mother explained was created from his personal point of view. I felt an instant connection to him and he has remained a lifelong inspiration to my artwork. The art movement in the 60's with Andy Warhol, Peter Max, and Jackson Pollock, to name just a few, made me feel right at home and confirmed for me that there was and is a place in this world for my art.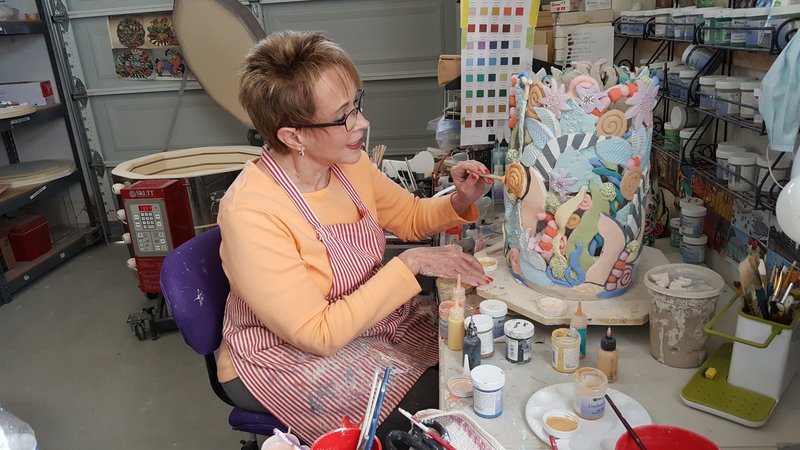 ARTIST BIOGRAPHY


MaryAnn Ferguson was born in Washington, D.C. the daughter of a career officer in the US Army whose postings took the family to Japan, Virginia, and twice to Hawaii, where the family retired when MaryAnn was 9 years old.

MaryAnn loved growing up in Hawaii. With her friends she acquired a passion for hiking, bodysurfing, snorkeling, fluming, camping and exploring remote areas of Hawaii. She attended Punahou School in Honolulu, where she took her first course in ceramics and excelled at art, after school sports and writing. It is these experiences and memories, the smells, the textures, the fun, the passion that influence her colorful ceramic sculptures.

MaryAnn was a child of the times. She chose to pursue her Bachelor of Science degree at four universities to reap the benefits of studying with different professors. She majored in Art at University of Denver, Chaminade University, University of Hawaii and graduated with a BS in Communications/Filmmaking and a minor in Art from Emerson College in Boston, Massachusetts.


During her college years MaryAnn developed an interest in the culinary arts. She opened a small catering company that serviced the Arts (art openings, press conferences, private shows).
Following her graduation from Emerson College, MaryAnn earned an Associate of Science Degree from the Culinary Institute of America, Hyde Park, New York. She had a successful culinary career, first working in hotels and judging national food competitions followed by the reopening of her catering company which gave her the opportunity to teach and produce culinary arts videos at a community college and work as the food editor for a local magazine.

Catering gave MaryAnn the time to enroll in sculpture and ceramic classes at the University of Hawaii. Her sculptures were well-received in two art shows at the university. Her interest in catering waned yet it was through working as the private chef for Alan Carr, Executive Producer for many top films, that her interest in filmmaking returned.

MaryAnn returned to college to switch careers. She earned a MFA degree from Northwestern University and received the honor of being the first graduate of their filmwriting program. She distinguished herself by directing the feature film, "Bad Dreams Come True". In Chicago MaryAnn worked as a meeting planner, video producer, writer, director, editor and post-production producer for top production companies, ad agencies, Fortune 500 corporations and TV shows.

After struggling with her health for several years in Chicago, MaryAnn and her husband, Norm Nusbaum, moved to Las Vegas in 1989 where MaryAnn's health returned. In 1990 they opened Goodwyn Production Group (https://www.goodwyn.com), an award-winning, full-service film and video production company that creates corporate programs, TV ads and shows, music videos and documentaries for clients from around the world. Two of the documentaries she directed premiered on The History Channel.

Due to a work-related injury in 2012 MaryAnn was unable to continue working on location for film or video shoots. During her successful recovery she enrolled in a nearby pottery studio, Pottery West, and rediscovered her love of ceramic sculpture.


In 2014 MaryAnn's ceramic sculptures were accepted by Jana's RedRoom Art Gallery in Las Vegas, Nevada. Her consistent sales earned her the status of Elite Artist.

In 2016 MaryAnn created the Las Vegas International Juried Arts Competition which she ran with a close friend. Over 350 entries from 12 countries were entered into the competition which was judged by 9 judges from the USA and France. Today this competition continues to be run by Jana's RedRoom Art Gallery.


In 2017 The Gallery of Music and Art in the Forum Shops at Caesar's Palace in Las Vegas, Nevada, began showing MaryAnn's ceramic sculptures to their international audience.

MaryAnn's ceramic sculptures have been seen in Nevada at:
2017 Clark County Library Gallery - One Woman Show
2016 Boulder City "Art in the Park" Juried Art Fair
2015 Celebration of Life Juried Show
2015 5th Avenue Gallery, City of Las Vegas
2015 Jana's RedRoom Art Gallery
· Featured Artist
· Elite Artist
· Top Selling Artist
2015 Art2Festival
2015 Think Art Juried Show
2015 Decadence in the Desert Fair
2014 Think Art Juried Show
2014 Celebration of Life Juried Show
2014 Nevada Art Guild Show
2013 Nevada Art Guild Juried Show